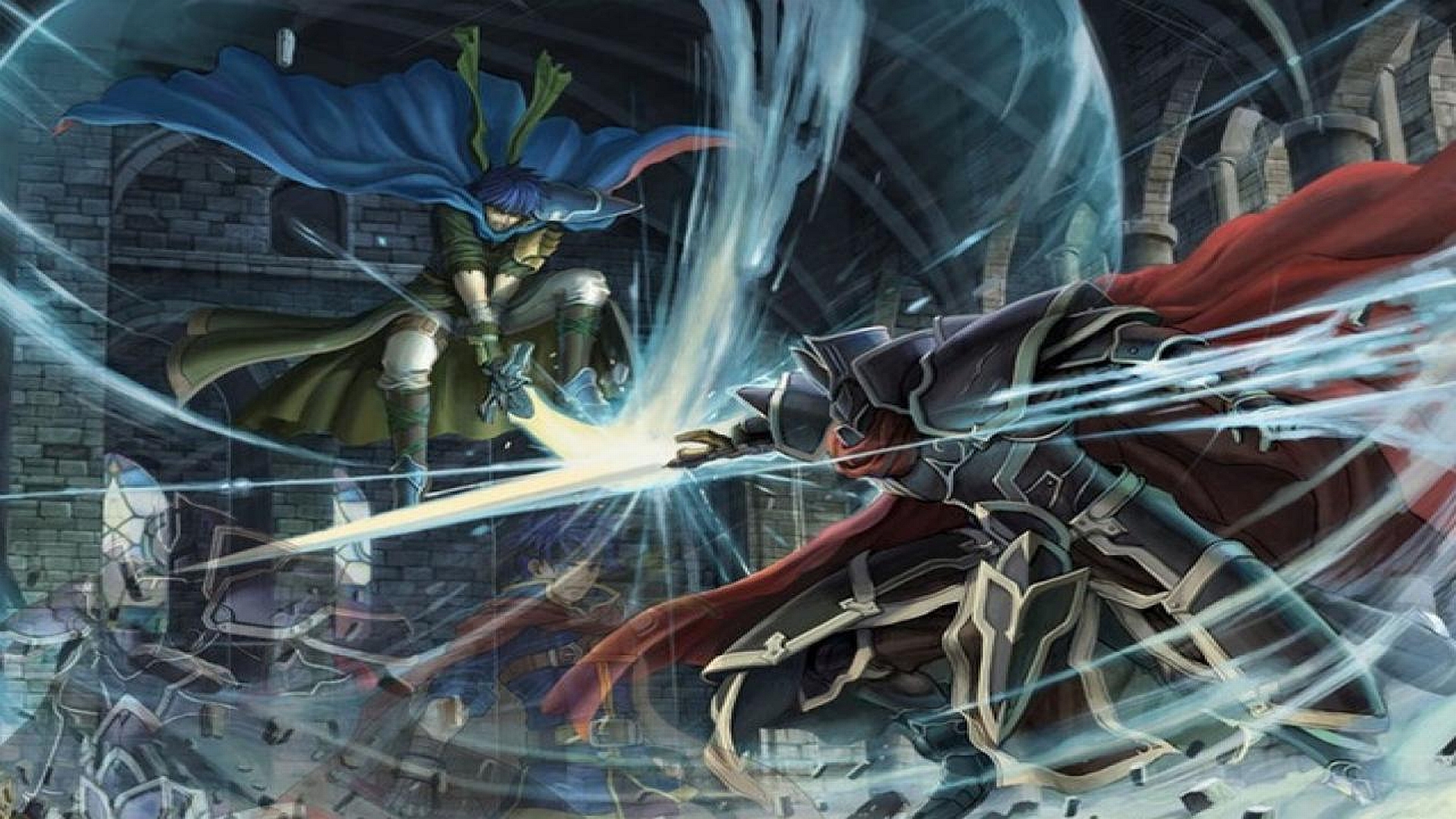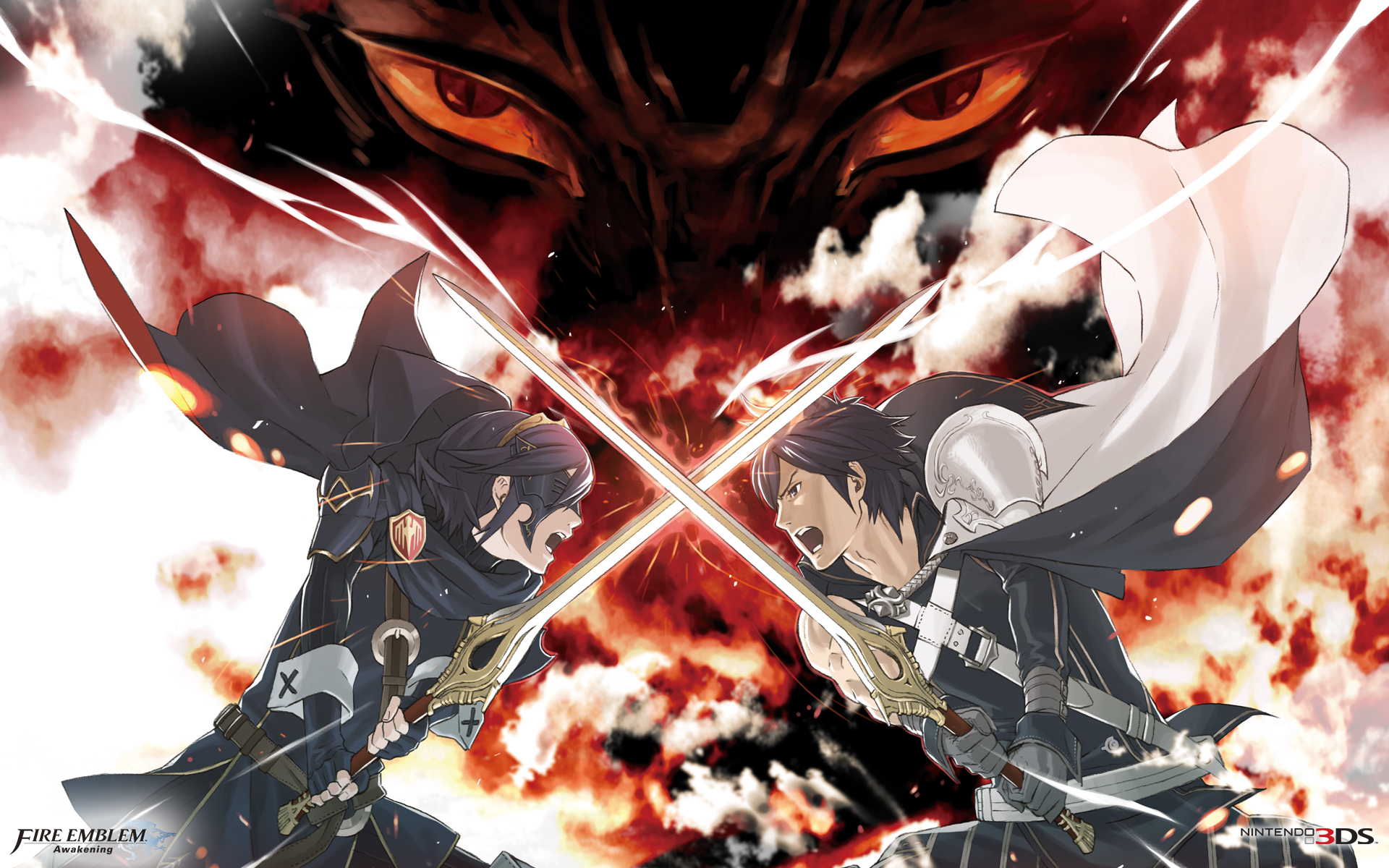 When two empires declare war, neither one of them is without fault.
Beware when you are fighting monsters that you yourself don't become one as well…For when you stair into the abyss, the abyss stairs into you.
Peace. If one truly fights for peace and clears away all enemies of peace to achieve it, they are the most sinful of all men. In times of old kings and Nations went to war in order to maintain their peoples peace. So armies clash, men fall and the world burns till all kingdoms burn themselves to the ground. For the sake of inspiration and hope legends of warriors and armies that could defend against the very gods to protect the ones they care for.
In the land known as Tellius one such legend holds to this day. For the kingdom of Daein, it was the legend of the Dawn Brigade, a group of powerful warriors who single handedly turned the tide of the war that engulfed the nation. Lead by Ike, they cut down the kingdoms enemies without mercy and won the hearts of the people. Ike alone wielding the sacred sword Ragnell defeated soldiers and generals, leaving their shattered bodies in his wake. Although the peace was won, the lives that needed to be sacrificed were more then anyone cared to count.
In another land witch bared the name of Mogvel, a similar story took place. Price Roy and his father fought against the tyrannical rule of the former king. When he died the ruling families ripped themselves apart trying to get at the throne. All of them were slaughtered in one battle after the next until Roy remained as the sole royal heir. With his title and the sword at his side he lead like minded men and woman to both freedom and greatness as they took back their home.
Of all the stories that inspired people to take up the sword to defend their home, they are all nothing more then retellings of the original kingdom and the original hero king. Archanea and its king Marth were first great legend to come out of the story books and into the minds of the young. Wielding the original falchion he defeated both men and monsters to protect his homeland. His actions made him a good man, his deeds made him a legend and a king.
After all of their hard fought battles all of these hero's deserved to have their lives and take the rest that they've earned or thats what should have happened. A magic has cracked the doors and walls of time, making one great kingdom facing the other. All rulers and knights knew that if these legendary armies fought there would be no winner. So the new neighboring kingdoms called for a truce till this matter could be sorted out. But that truce soon became nothing but a flimsy piece of paper as each kingdom realized that there was only one thing that could fix this, the Fire Embelm. A magical device of great power that could save the kingdom from the hell it now faced, but only one. So, each side readied their army to prevent the others from taking control of the emblem. Now, legends clash with the intent to kill one another, all in the name of piece.
Those that lived through this war would one day call it the Emblem War, but no one put the name into history. This was the one war that wasn't made into legend, as a reminder at what people will do for those they love.
Last edited by Mycrodeeth on Sun Mar 01, 2015 11:50 pm; edited 1 time in total (Reason for editing : Plural v. possessive. That apostrophe was needed elsewhere.)

_________________
-  ╭———╮
 /___O___▬▬||||▬◖
 ├─┼─┼─┤
 /¯│¯│¯¯¯
 ░░░░░░░囗❚❚❚❚❚❚❚❚───Ɑ
 /◕│◕◕│◕◕
 / ◕│◕◕│◕ ◕ 
 / ◕ │◕◕│ ◕ ◕ 
/ ◕  │◕◕│   ◕ ◕ 
▀▀▀▀▀▀▀▀▀▀▀▀
The Marksman




Posts

: 7595


Join date

: 2013-10-13


Age

: 20


Location

: Take a left at the pile of dead bodies. Then go forward until you get to Hell, if you reach satan's place you've gone to far.



How far would you go for those you love?
"When their time comes, perhaps. That's why I feel a heaviness when I gaze up at night. I'm trapped down here on the earth, when all those I've loved are way up in the sky. So far way, beyond my reach... I wonder if they ever look down at me too." - Tiki in Xenologue 16 of Fire Emblem: Awakening
"if I'd been born in my grandfather's time, I'd have made my grandfather's mistakes. There's no doubt of it. I just don't want to make my grandfather's mistakes today." ― Frank Herbert
"You cannot swim for new horizons until you have courage to lose sight of the shore."
― William Faulkner
Who are you that does not know your history? - Ulysses (Fallout NV Lonesome Road)
Tiki placed the thin, green flower on the stone, and took a step back. Her face was damp, and her heart hurting. Dracom lay, deep in the ground. They had buried many of their friends over the last 200 years. All of them, in fact. Nowi stood a few paces away, sniffing and trying not to cry. Dracom, still had a bit of Grimma deep inside of him. He lived to be 203. Nah held Nowi's hand, and morgan was staring hard at the ground, the cloak of her father still on her shoulders. Lady Tiki could not move, could not think, only hurt. She remembered Marth, and how much Dracom reminded her of him. She falls to the ground in bitter tears. Naga feels her child's pain, and reaches out to her in comfort. That was Naga's first and only mistake. For when she reached out, Lady Tiki also reached out, and grasp at Marth and Dracom Alike.


In other places, far from war...
Dare rises from his rocking chair, and smiles. Yarne walks down the path to the log cabin, and waves. He was so glad he stuck around. Odd, his son helping him raise his son. Panne was with Little Morgan. She was almost a year old now. Little Yarne was 4. Morgan sat across from Dare in the other rocking chair, a chess set between them. Yarne lifted little Yarne above his head, and laughed. His family. He had worked hard for it, and he enjoyed every gifted moment of it. He wished it would never end.
Somewhere so very very far away, Shiida rises from her bed, and looks over. Marth is standing outside the bed chambers, the blue light of night filters through the waving white curtains that have been pulled away. She rises and walks over, slipping her hand into Marths.
"What's wrong, love?" She asked, worried. Marth turns to her, and smiles. "It is nothing, Shiida. Just can't sleep." She smiles, and places a hand on his chest. "Then don't."

Time further into what we call the 'future'
Fend're was having visions again. He rolled in his bed, fighting beasts no one could see, and some, no one would ever live to see.He sees a woman in blue, dancing. He sees a lone Laguz, and such blood from his ancestors. He sees empty, black armor. He is afraid. Soon he wakes, and tells his grandmother. "Grandmother Lucina? I have had the dreams once more…"  Great Uncle Owain comes, and raises the boy to be a swordmaster. Owain is fascinated by the boys visions, and prophecy. Time passes, and he grows to be a fine young man. Grandmother Lucina has passed away, and left him Falchion. He is now Exault. He is on his way to see Owain, on his death bed. He talks with him in secret for a long time. Owain pulls out a sword wrapped in paper, and places it in Fend're's hand. "Lucina, she told me to keep it hidden. You will need it, if what you have told me is true. Let the past's scars of time heal, and may you always remember your history." Later at home, he unraveled the papered sword. He was shocked to find a second Falchion. Then he heard the yelling. Then shouting. Then nothing. He took the second sword, and put it in an X with the other on his back. His blonde hair, tied behind his head, and the Brand on his lower neck, he walked forward, as light began to shine on his face.
The Dead Manakete Soul, and His mate.
The Content Leader turned family man.
The fabled King, symbol of the old world, rushing to become new.
The Sights of a future that could be, clouded by the past, and of that can never be.

This, is surely when all fires shall ignite.
Last edited by Dare-to-be on Sat Mar 07, 2015 8:34 pm; edited 1 time in total
Initiate




Posts

: 235


Join date

: 2015-02-22


Location

: <Mars Colony>



Ike stood atop Daein's main tower looking out over the new land. Queen Elicia walks up behind him "We're a long way from home" Ike comments looking at the castles in the distance.

Elicia nods "I'm going to hold a meeting of the lords of these new kingdoms, I would like you to join me lord Ike"

Ike jumps off his perch and lands in a bow "Lead and I shall fallow"

_________________
-  ╭———╮
 /___O___▬▬||||▬◖
 ├─┼─┼─┤
 /¯│¯│¯¯¯
 ░░░░░░░囗❚❚❚❚❚❚❚❚───Ɑ
 /◕│◕◕│◕◕
 / ◕│◕◕│◕ ◕ 
 / ◕ │◕◕│ ◕ ◕ 
/ ◕  │◕◕│   ◕ ◕ 
▀▀▀▀▀▀▀▀▀▀▀▀
The Marksman




Posts

: 7595


Join date

: 2013-10-13


Age

: 20


Location

: Take a left at the pile of dead bodies. Then go forward until you get to Hell, if you reach satan's place you've gone to far.



Dracom feels himself awaken on the cold stone slab. Something feels sick, and painful. The very air feels like poison. He opens dead eyes, that are nothing but pools of white. He feels the heavy weight of the dark wings on his shoulder, as he unfurls.

Marth smiles, as he looks out across the garden. The conflict of Medeus has long sicne been forgotten. Nabarl walks across the lawn, sipping water in the midsummer heat. A small red bird suddenly lands on a tree branch, and Nabarl looks up, puzzled. Something in the wind was drawing him away, like before.

Dare woke from a nap, and little morgan laughed. He suddenly had a vision of Grima screaming his name throguh the void, and gripped his chair. Morgan suddenly grew silent, then Little morgan started crying. A hush fell over the cottage, as they felt the change. Somewhere, somehow, A dragon was returning.

Fend're saw a massive hulking undead dragon, rip and tear its way across the sky. He shook his head until it hurt, trying to send the visons away. He looked up at the small ruined castle, the sun at his back, castign a ray of orange on his soft yellow tunic, and the Falchions on his back glowed lowly in the heat of the last bit of day on the plains of ylisse.
Initiate




Posts

: 235


Join date

: 2015-02-22


Location

: <Mars Colony>




---
Permissions in this forum:
You
cannot
reply to topics in this forum